How to Find and Apply to Jobs
August 26, 2021
2021-08-26 18:22
How to Find and Apply to Jobs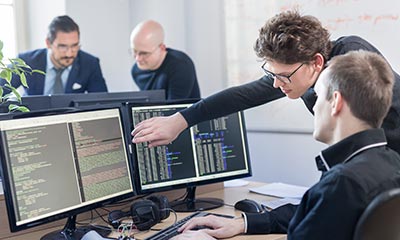 How to Find and Apply to Jobs
Why is it important?
There are multiple ways to find and apply to jobs. No one way is best! Job hunting can be laborious, so looking at it from multiple paths can keep the process fresh and interesting. Below we will give you an overview of several paths to jobs.
Pathways to Jobs
1. Tap into Your Network
Make a list of everyone you know, both professionally and personally. Reconnect with people you have lost touch with and take the time to identify relevant connections to develop. To build personal connections, conduct informational interviews. Use your Bootcamp AI network to connect with your peers and Bootcamp AI staff. When you graduate, take part in the Alumni community.
2. Attend Events
Attending events is a fantastic way to learn about available jobs, meet new contacts, and discover interesting companies. Checking out MeetUps, job fairs, and conferences can be a great place to start. When attending these events, bring personal business cards with you. Don't forget the most critical steps — connect with people during and follow up after events.
3. Used LinkedIn to its Best Effect
LinkedIn is a powerful tool to broadcast yourself and find jobs. In the job hunt, use LinkedIn as a way to find current connections, new contacts, and insights about company culture and tech stacks.
4. Check Job Boards
After you have created a list of companies that interest you, go to their individual job boards and apply.
If you are looking for a more general search, checkout websites like: codejobs.io, hired.com, dice.com, simplyhired.com, monster.com, stackoverflow.com/careers. Glassdoor.com is also a helpful site for information like company reviews, salary, and interview tips.
5. Contact Recruiter & Matchmaking Sites
Headhunting recruiters can help you connect with positions that may not be widely accessed online (often a good option for more senior level positions). Matchmaking sites like: Whitetruffle.com, hired.com, launchcode.org will all do the leg work for you by introducing to you companies.
Takeaways
Diversify: put your eggs in many baskets.
Use several pathways to keep the search feeling fresh.
Use a few, if not all, of the paths mentioned above.
Keep Organized.
BE PERSISTENT!
Nanodegree Specific Tips
Questions about job searches range, but the most common Nanodegree student questions revolve around how to stay organized, motivated, and market your Nanodegree education. Below are a few quick tips to address these questions:
Use your Bootcamp AI Network.
Review our Career Prep workshops for more detailed information on how to prep for these paths.
Make sure to fill out your Bootcamp AI profile.
I'm Ready for a Job, Now What?
Hosted by Bootcamp AI Front End Coach — Durant Schoon and VP Careers — Kathleen Mullaney, this workshop will include pathways to jobs, personal anecdotes, and tips for job searching and a Q&A with Bootcmap AI students.