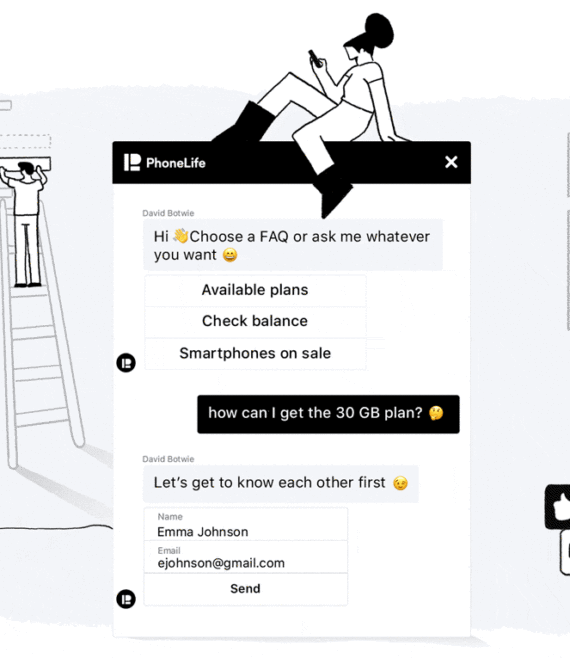 Agentbot | Conversational AI-Powered Chatbots
Ideal for companies looking to automate a low volume of monthly conversations.
One time onboarding fee
USD 500 (Optional)
No credit card needed.
100% no-code.
All messaging channels
Self-service Knowledge Management
Conversational AI engine
Specialized CX Analytics and Training capabilities
Unlimited Live Chat Users
SLA 99,9%
Description
Talk to your customers naturally and on any digital channel with AgentBot. Manage knowledge without technical expertise, learn from every interaction and solve inquiries instantly.
72 hours
Quick Onboarding
78%
of conversations resolved without transferring to a human agent
300+M
interactions
Put a spin on conversations
AgentBot talks with customers as a person would. AgentBot's conversational engine provides customer service in multiple languages. Its multiple AI technologies can interpret informal language, errors, regionalisms, emojis and voice messages for an unstructured communication.
Available 24/7 across all channels
Start or continue a conversation on any channel with a unified experience. AgentBot's AI bot adapts answers automatically across all messaging channels for instantaneous and seamless service.
The Agent, more important than ever
Make your agents' time count. AgentBot transfers the session to a live chat only when necessary. The agent gets the chat history and the customer's profile in order to personalize the service. When the agent is done, the session goes back to the bot in a seamless Bot-Human-Bot experience.
Security and privacy above all
The needs of today's world and and the ones of our customers fall in line with Aivo's commitment to availability, security and privacy.